The COVID-19 Temple Dining Experience
Temple Culinary Services is taking every precaution possible to protect its students and its workers amidtst a pandemic
Written by Emma Ford, Photographed by Michael Seitzinger
COVID-19 caused a drastic change in the college experience, robbing students of certain events entirely and completely transforming others. One of the many facets of this modified experience is college dining. Usually, students would be able to join their friends in the cafeterias and discuss the weekend's drama or drop by the student center to eat a quick snack between classes. But because of the concerns COVID-19 has presented, Temple's dining experience is much different than in past years.
"At the start of COVID-19 in the spring 2020 semester, we immediately began to increase our safety and sanitation procedures, and we began wearing facial coverings consistently as early as April," said Alicia Farrow, the marketing manager of Temple Culinary Services. "We have also restricted indoor dining in our locations to aid in maintaining safe environments for serving food."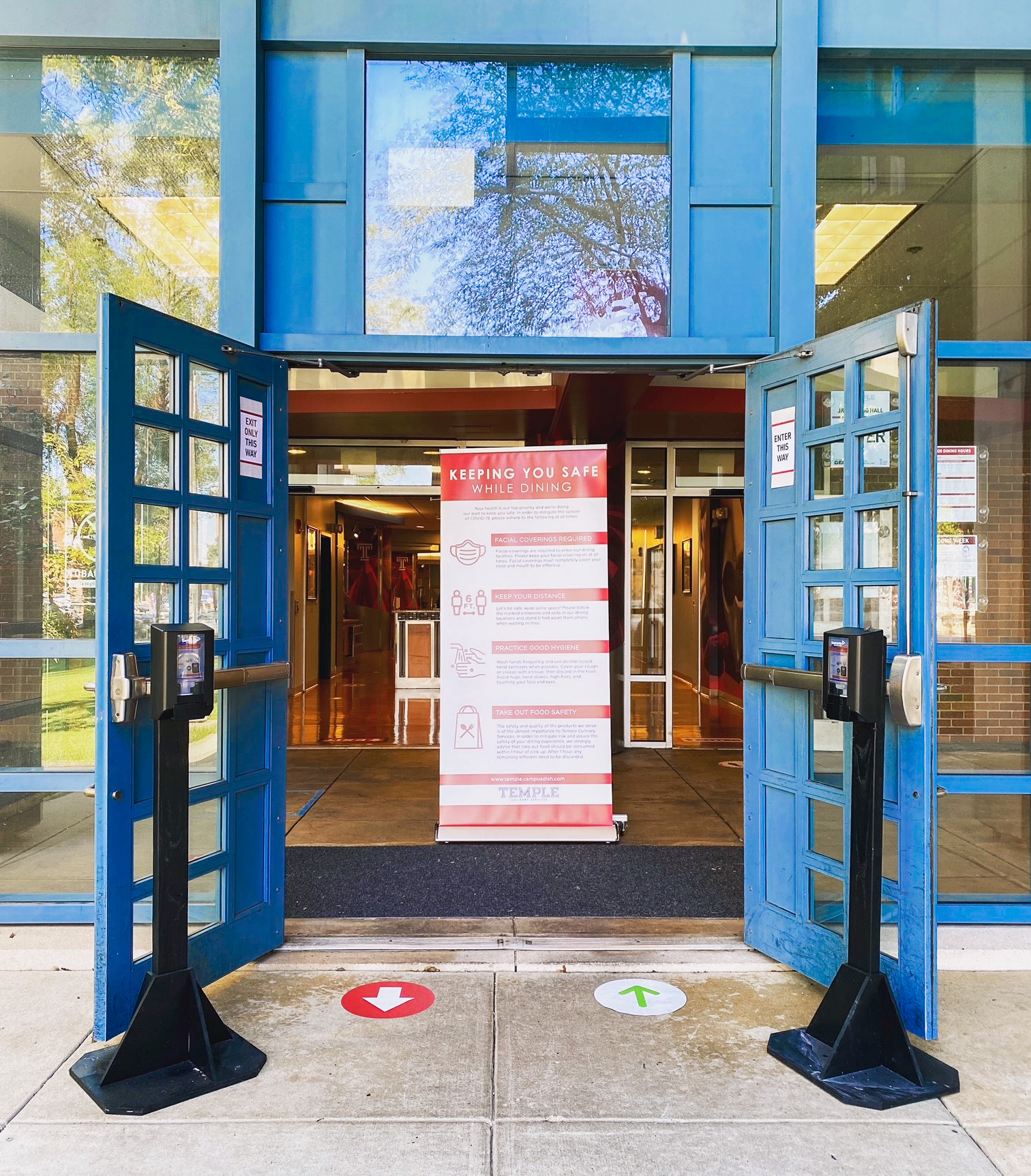 Farrow also pointed out other precautionary measures within dining facilities such as mandatory handwashing every 20 minutes, employee temperature monitoring at the start of each shift, proactively procured PPE for all staff members, social distancing cues to help staff safely serve students, and plexiglass barriers for cashiers and other employees. These initiatives have been put in place not only to protect students, but employees as well. There are also preventive measures in place from preparing to serving food in all areas.
"When food is prepared, our staff is now wearing mandatory facial coverings. Our staff also practices social distancing in the back of the house whenever possible, and we have streamlined certain processes to support distancing while working in our kitchens. Gloves are changed frequently and we have timers to alert staff members every 20 minutes to wash their hands. To provide additional safety measures, we offer pre-packed foods which are safely prepared in our kitchens and sealed before reaching the customers," said Farrow.
While the dining experience is most definitely not the same, many students are appreciative of the safety measures and understand the importance of taking every precaution possible.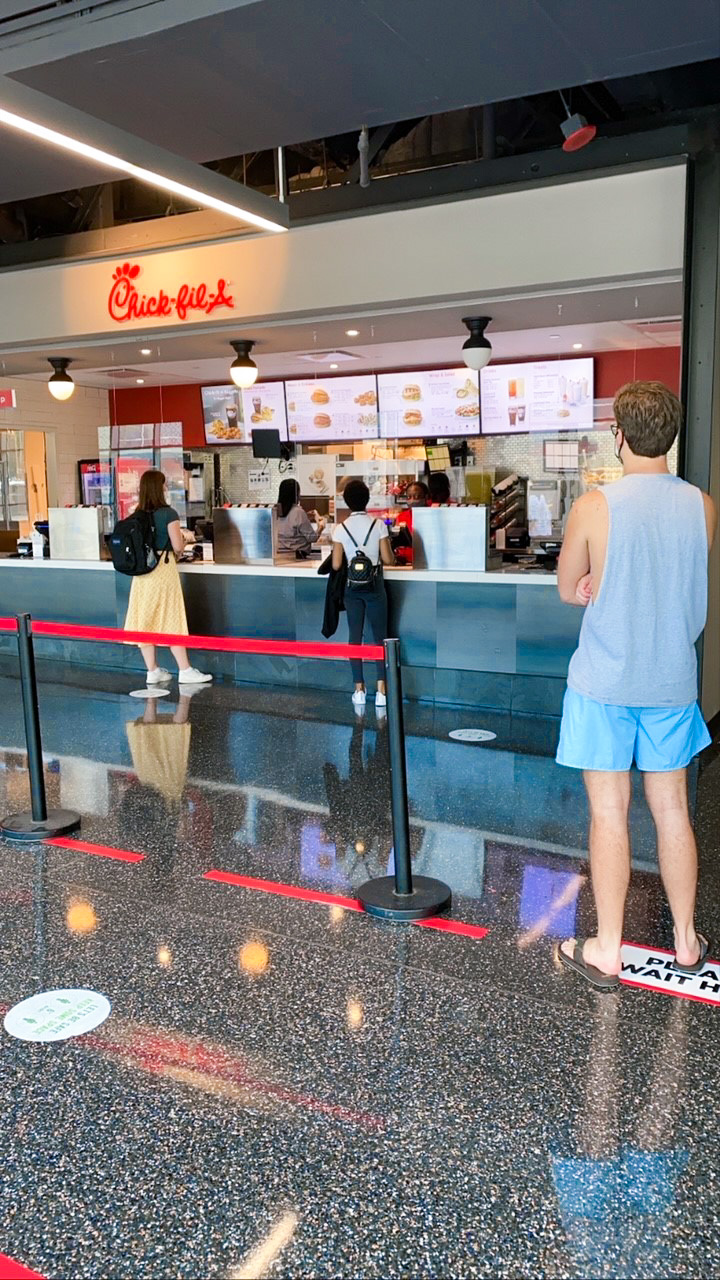 "I do think Temple has taken the necessary steps," stated Lilly Urkuski, a junior nursing major. "Everyone serving and working with food has a face mask on and gloves. I noticed the student center is much cleaner and there are people going around to clean and wipe the counters more often."
Farrow pointed out that a lower number of students bought a meal plan in the fall semester due to dedensification on campus. Additionally, when classes moved fully online in September, the university provided students refunds for meal plans if they chose to move back home, adding to the significant decrease in meal plan purchases. When thinking about the future, Temple Culinary Services is planning to reopen the same operations for the spring semester that were open during the fall semester.
"With a reduced campus population, and most students living on the south side of campus, we will keep our open dining locations convenient for those residing on campus, while still providing a variety of options and favorites for off-campus and commuter students," said Farrow.
While students understand the need to be safe, they are also hopeful that the university may open more of their dining options while keeping the precautionary measures in place.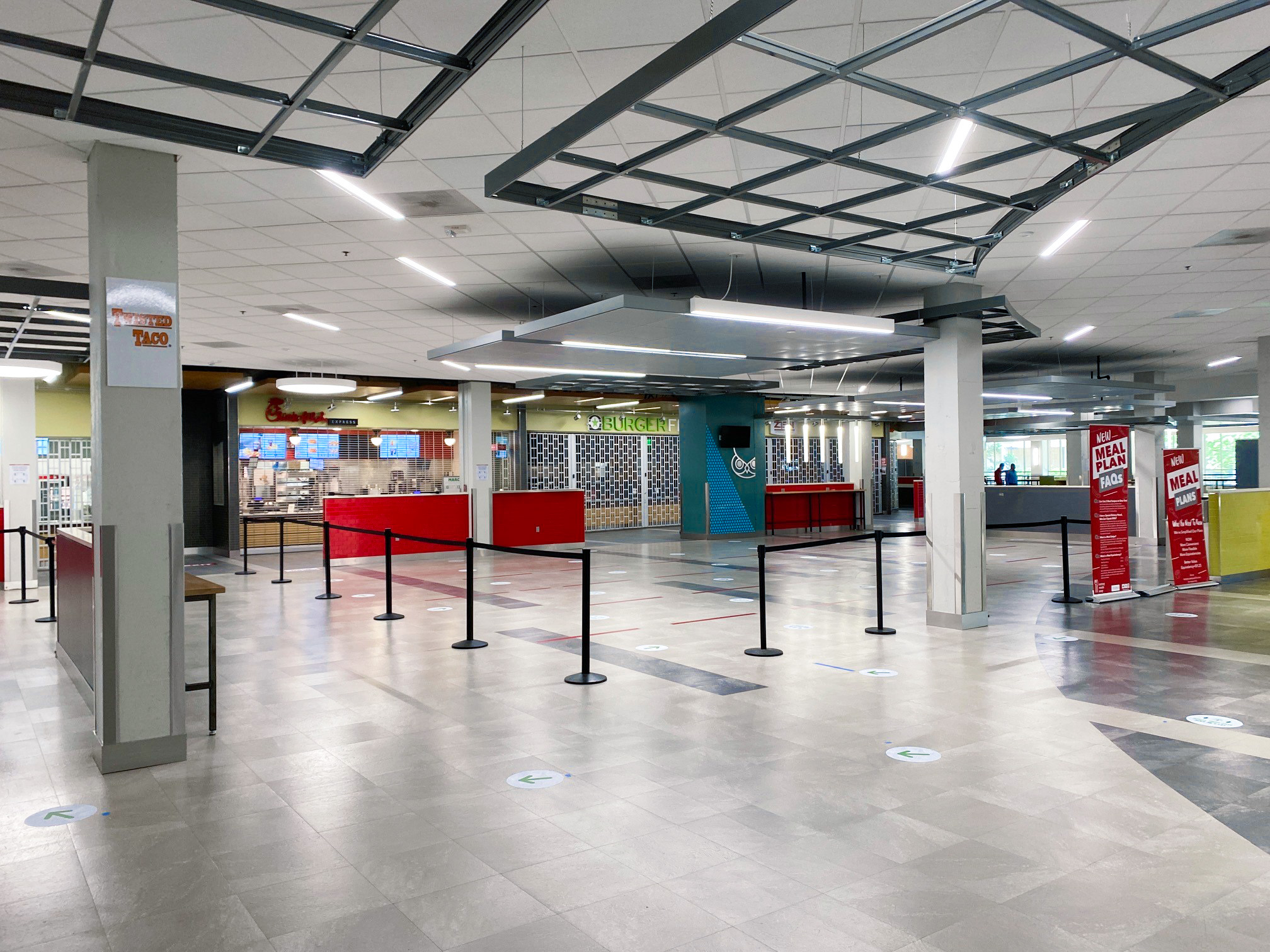 "In the spring, I hope they open the rest of the places in the student center because BurgerFi was not open as well as Zen," said Urkuski. "I also hope they continue enforcing the precautions they have set in place."
Regardless of whatever Temple Culinary Services does concerning their facilities and operations, they operate based on two principles that keep the students' wants and needs in mind.
"Temple Culinary Services focuses on two main priorities," said Farrow. "Offering student favorites as well as providing and maintaining safe dining environments."
While the college experience has been turned upside-down, Temple Culinary Services is doing everything in its power to make getting and eating food on campus as safe and as enjoyable as possible. As long as the university stays open to students, Temple Culinary Services will make students their most important consideration.