RefundUs TU Fights For Fair Tuition
Two Temple students create a student movement for lowered tuition
Written by Emma Ford, Photographed by Brian Saunders
In May of 2020, Temple's Board of Trustees approved a tuition freeze for the 2020-2021 academic year. The decision came as a reaction to the economic distress caused by COVID-19. However, many students are saying that this is not enough. Although a freeze in tuition does not necessarily cause more direct financial hardship, it certainly does not lessen the stress.
This is why RedfunUs TU was created. Formed by Lynn Darby, a senior secondary education major, and Herby Boucard, a junior mechanical engineering major, RefundUs TU is a social media campaign arguing that students are being charged tuition at a higher rate for a lower quality of learning.
"RefundUs TU was created in early September. My friend Herby posted a list of resources Temple was not providing on his personal Instagram account. I reached out to him and asked if he wanted to make a separate account to spread awareness about this and he agreed," said Darby.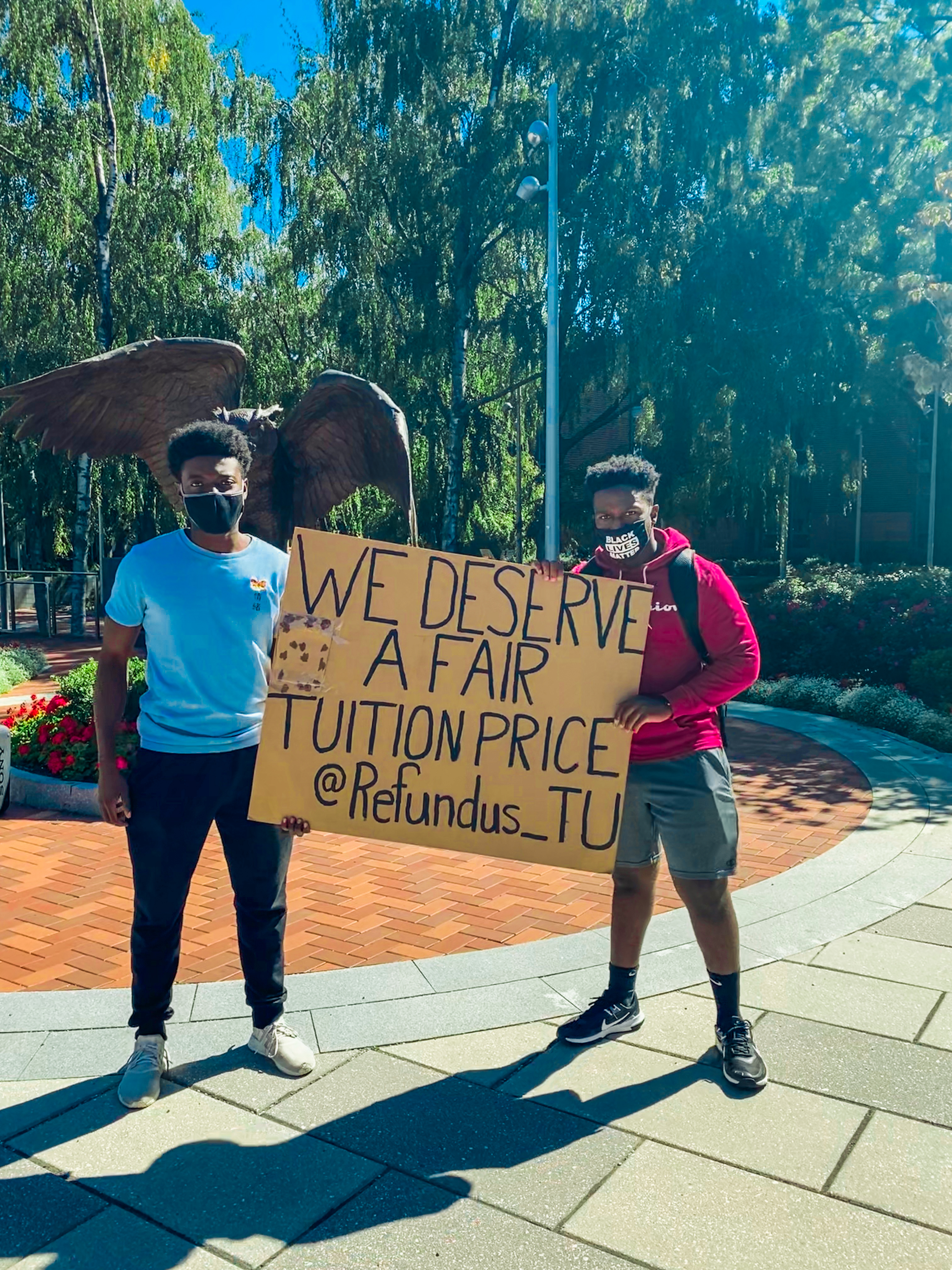 The two established the Instagram account @refundus_tu. Their first post, which is now at nearly 3,500 likes, was a message meant for Temple University. The post argued that remote learning is not as effective as in-person learning. It also listed some of the resources that are either no longer available to students or have been compromised in some way, then went on to demand fair tuition.
"That initial post was shared across Instagram by many in the Temple community. We realized we had so much support and people agreed with us," said Darby. "A lot of people feel as though they have been wronged. We want these people to stand with us against those who are committing the wrong."
Darby cites two main goals for RefundUs TU. First and foremost, the movement begs Temple to admit that remote learning does not offer as robust an experience as in-person. Therefore, Temple must provide a partial tuition refund for students. A secondary goal of the movement is to hold Temple accountable. Students want a college that is honest about where tuition dollars are going.
While RefundUs TU us a larger movement, Instagram is their main form of communication.
"Our Instagram is our only online presence, which we are still trying to grow. It is the most neutral and accessible platform where our audience can share our stories and posts. It really is the best option to grow the movement," said Darby. "Additionally, Temple has a huge presence on Instagram. We realized that RefundUs TU would reach the most relevant audience if we meet Temple where they already are."
Darby and Boucard are the only co-administrators of the Instagram account, but the two are adamant that the movement is much more than them.
"We want it to be known that this is a movement that the entire Temple community has to be involved with. We hold just as much stake in this as anyone else does," said Darby.
While Darby and Boucard are fighting for lower tuition, the two recognize that Temple is working hard to handle COVID-19. Temple set guidelines in place, and the spike in cases that caused classes to move online for the remainder of the semester was due to many factors. Darby believes that remote learning is the most logical option, but charging full-price tuition is unacceptable.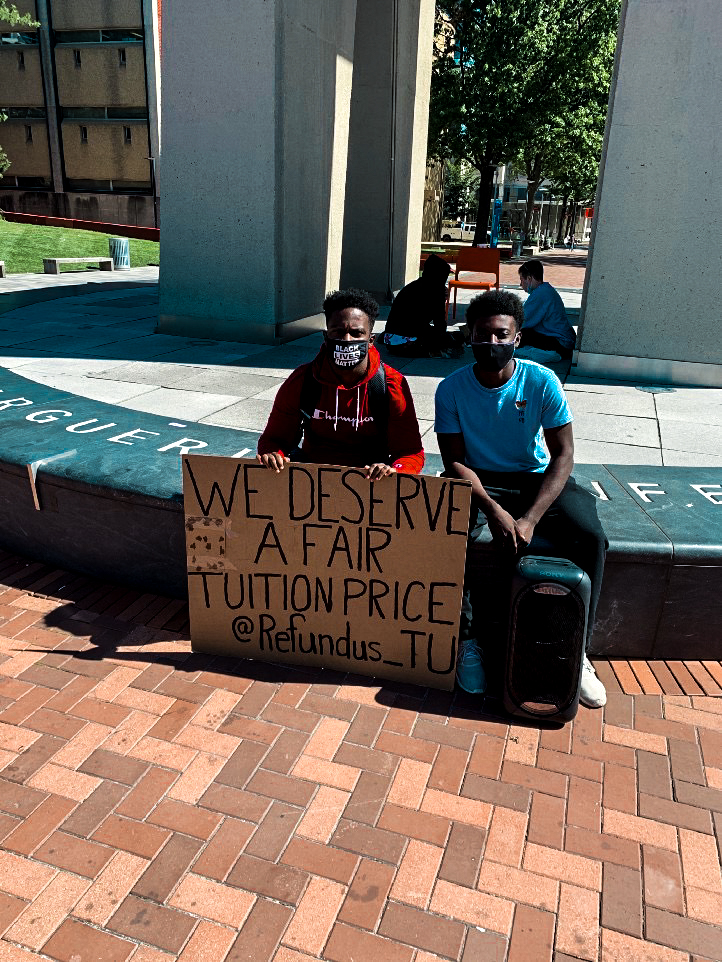 "Temple had so long to prepare and come up with different action plans. But they have not made this experience as uninterrupted as it could have been. Students are taking a hit. Our college experience is taking a hit. Remote learning is viable to get us through the pandemic, but I do not feel as if full price tuition goes hand in hand with that."
Although Temple has not contacted RefundUs TU, Darby and Boucard were interviewed by CBS Philly regarding the movement. CBS Philly also reached out to the university and a spokesperson gave the following statement:
"Instituting a tuition freeze allowed Temple to save students money and keep the university financially viable during the pandemic."

Darby believes this statement is a slap in the face-"I think that honestly attests to the issue that colleges are financially corrupt. They want to make themselves seem good by not raising tuition. Our experience was reduced, so our tuition should be too."