Ayomide Banjo Makes Brunch Into a Business
Small business Mi.Delights brings homemade brunch to Temple University.
Small business Mi.Delights brings homemade brunch to Temple University
Written by Emma Ford, Photographed by Ethan Puth
In May of 2019, Ayomide Banjo began a foodie account on Instagram, highlighting the numerous restaurants she visited and the delicious food she ate. But like so many college students, she became wrapped up in schoolwork and soon could not devote any time to the account. Then COVID-19, as much as it has disrupted, gave Banjo the time she needed to not only revive the account, but to develop it into a business as well. Then, in August of 2020, Mi.Delights was born.
"I started putting my own twists on desserts and brunch meals and after talking to my family, I decided that if anything, a food business could be really fun and would be a great way to pocket some extra money," said Banjo, a junior neuroscience major. "I had no idea that I would receive so much love and support."
Based in Philadelphia, Mi.Delights is a small, black-owned business specializing in baked goods and brunch foods. Banjo creates an original menu every week that is posted on Monday evenings through the business' Instagram account, @mi.delights. From there, students and residents in the Philadelphia area may place an order at any point in the week until Thursday. Once an order has been placed, Banjo schedules a pickup time for each client on the following Friday or Saturday and spends her weekends cooking and baking all of the requests.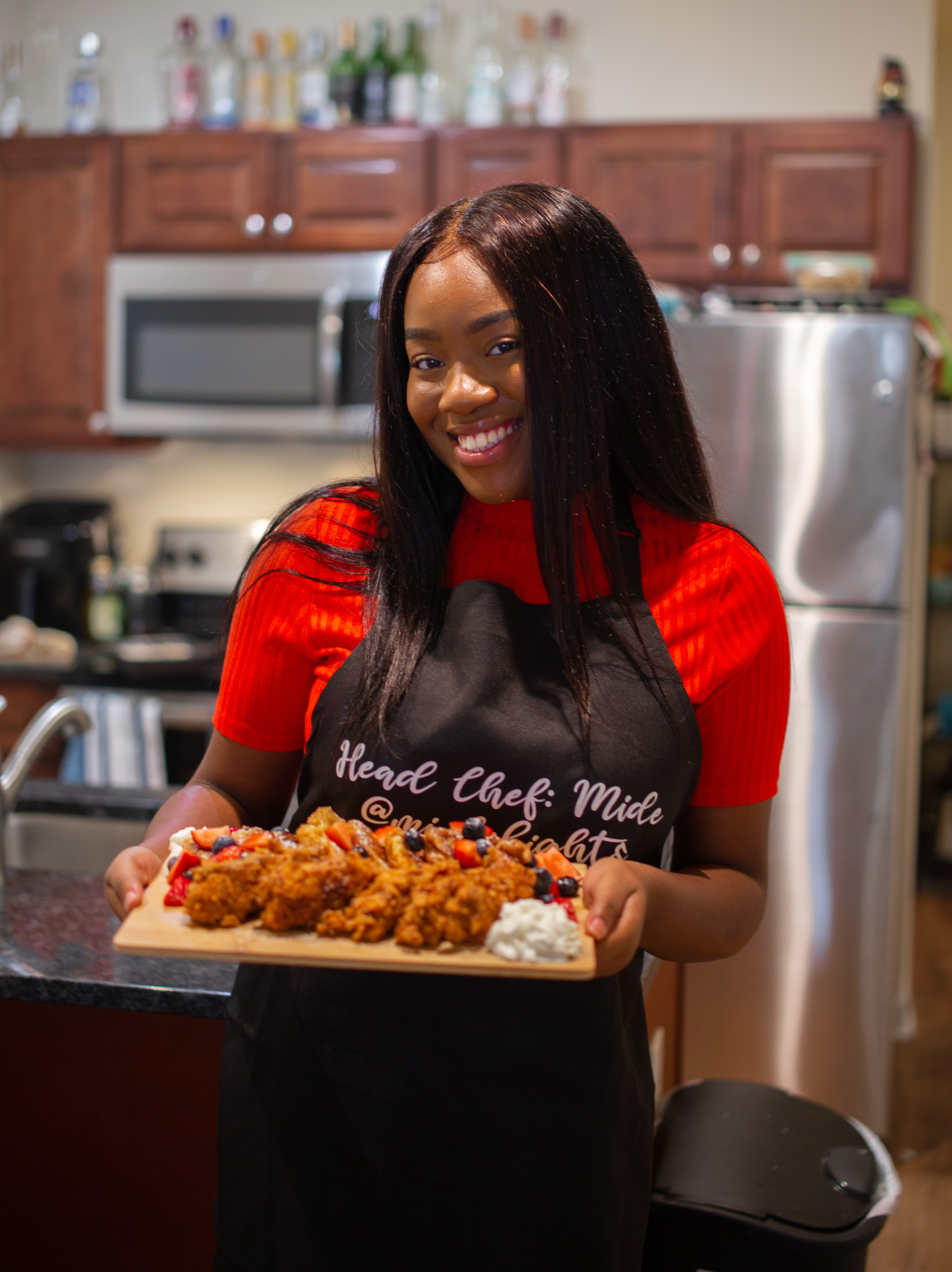 "On weekends, when I am not distributing orders, I am trying new recipes that I may want to add to the menu. I spend a lot of time budgeting and managing my income from the business to ensure that I account for everything that was ordered and disbursed during the prior week," said Banjo.
Banjo's menu varies from savory to sweet, including dishes such as chicken and waffles, soft pretzels, cupcakes, and so much more. Banjo notes that her most popular brunch is the french toast and waffles with rosemary and garlic potatoes, while the fan-favorite desserts are macarons and cinnamon rolls.
Almost all orders are placed by direct message through the business' Instagram, so Banjo prioritizes her media presence to ensure any potential clients know how to contact her.
"I spend a lot of time on my Instagram because that is where nearly 90% of my clients initially come in contact with my business. I plan out each of my Instagram stories and posts because I want people to look at my food and immediately want to order it – I'll never post anything that I am unsure of or that looks unappealing to me," said Banjo. "It does consume quite a bit of time, but my followers have doubled since my business' launch and I feel a lot of that is because of the aesthetic of my page."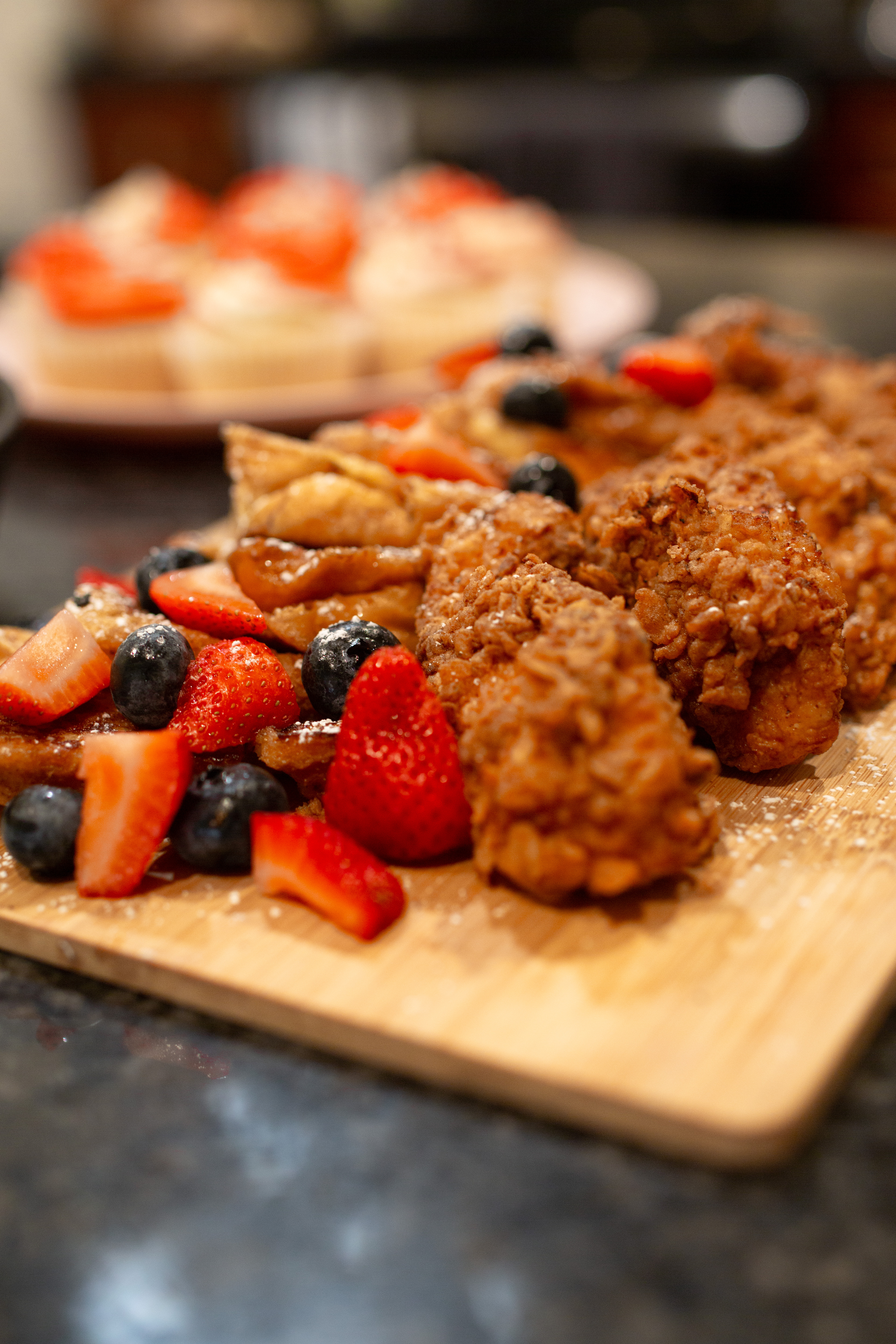 As Mi.Delights began in the thick of a global pandemic, Banjo has had to grow accustomed to quite a few hurdles as she started her business. University events that would have been huge publicity opportunities for Mi.Delights (such as Templefest) have been canceled or moved online. Additionally, Banjo takes extra precautions when making her food. She wears a mask and gloves at all times and avoids any direct contact with her ingredients as much as possible.
However, COVID-19 has not been completely detrimental to Mi.Delights. In fact, it has been a benefit in some ways. "COVID-19 has actually helped with my social media outreach; people have been spending a lot more time on social media since COVID's emergence and this really helps me gain engagement on my platform," said Banjo.
Although Banjo does not plan to make Mi.Delights into a full-time career, she is excited to see what the future holds for the business.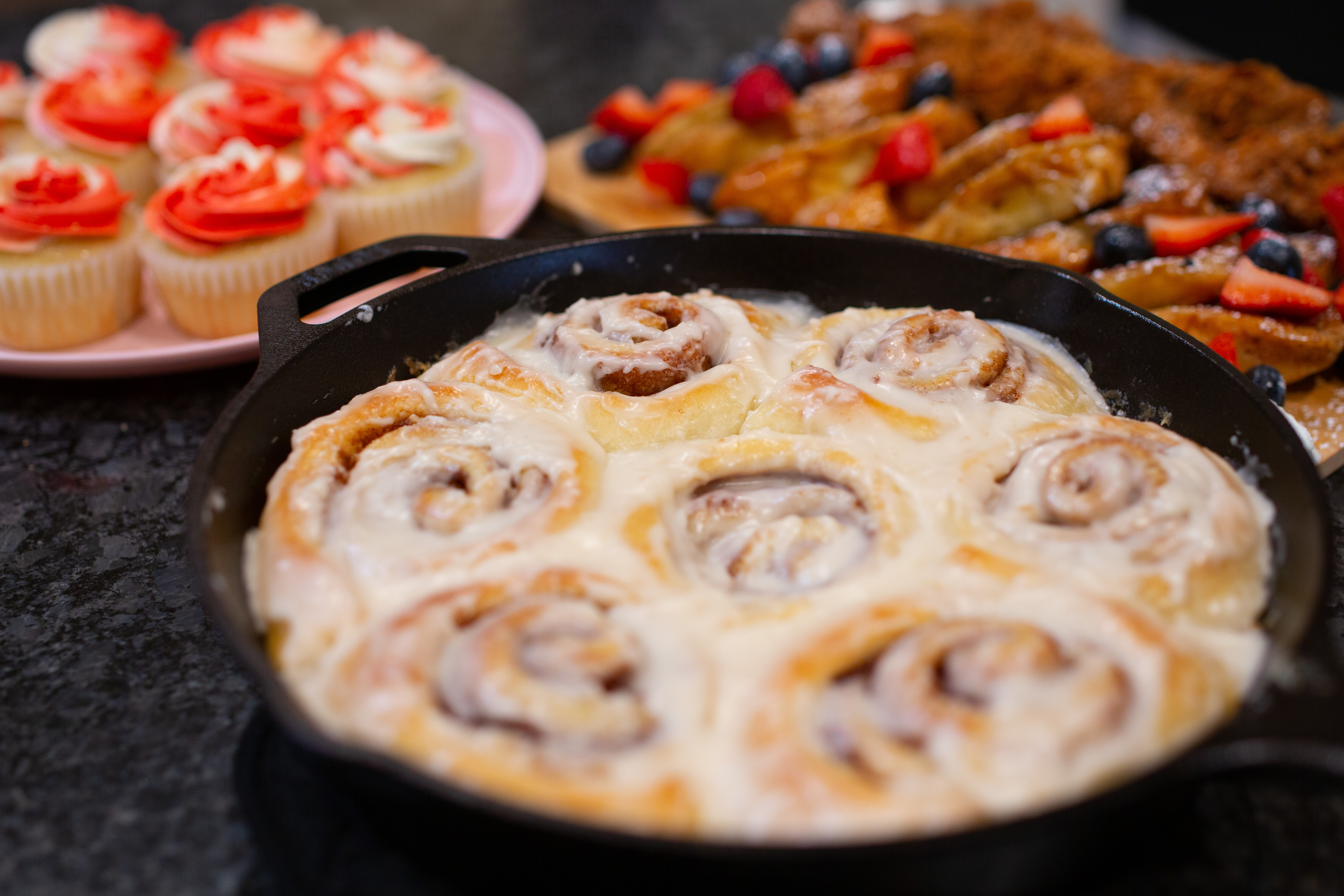 "Although I thoroughly enjoy making desserts and brunch, I plan to work as an industrial or organizational psychologist," said Banjo. "But I would like to keep Mi.Delights going on as a side hustle, or possibly pass on the legacy to someone else at Temple. I'd love to continue to see it grow in Philadelphia!"
A prolonged pandemic has been difficult in many ways, but it has also given many the opportunity to rekindle their passions. Banjo is grateful to be able to make something she loves so much into a business, and she encourages others to do the same.
"It's such a season of uncertainty and the last thing you want to do is regret not doing what you love, in fear of someone not liking it," said Banjo. "Starting off is the hardest part. Being consistent and having confidence in yourself is your top priority, and everything else will fall into place."